Lucknow. The Yogi government of the state is constantly trying to prevent the spread of coronavirus in UP. For this, a review meeting is being held from time to time by the Yogi government and his cabinet. In a meeting held in this regard on Friday, CM Yogi has said that door-to-door survey, contact tracing and medical testing should be conducted effectively to control the infection of Kovid-19. He has instructed to make special efforts to increase the number of ICU beds.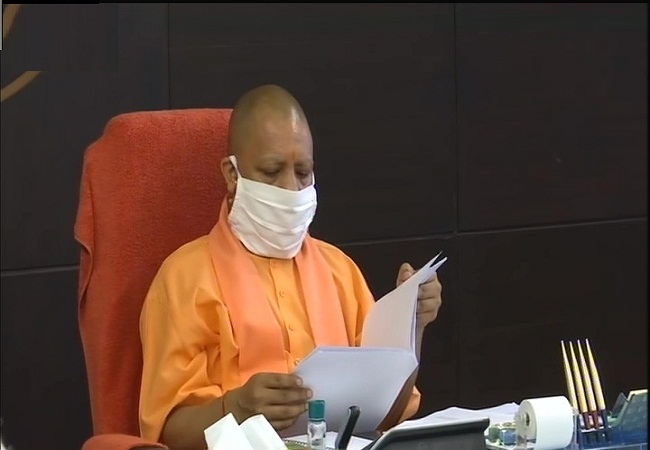 Unlock system review
On September 4, in a high level meeting held at Lok Bhavan, Chief Minister Yogi was reviewing the system of unlocking. He said that for proper treatment and survival of a person infected with Kovid-19, it is necessary to get him to the hospital quickly. Emphasizing the important role of effective surveillance in this, he instructed to conduct this work promptly.
In no case can the infection spread
Chief Minister Yogi said that special efforts should be made to prevent infection of Kovid-19 in Lucknow, Kanpur Nagar, Varanasi, Prayagraj and Gorakhpur districts. He instructed the Additional Chief Secretary Medical Education to go to Kanpur city on September 05, 2020 to review the medical system of the district on the spot. Apart from this, he also directed to review the situation of Additional Chief Secretary Health and Additional Chief Secretary Panchayati Raj and Rural Development District Lucknow. In this meeting, the Vice Chancellor, KGMU and the Director, SGPGI will also accompany the Lucknow team. He said that in any condition in the Kanpur city and Lucknow, the infection should not spread and it should be controlled. For this, after reviewing them, marking deficiencies and resolving them.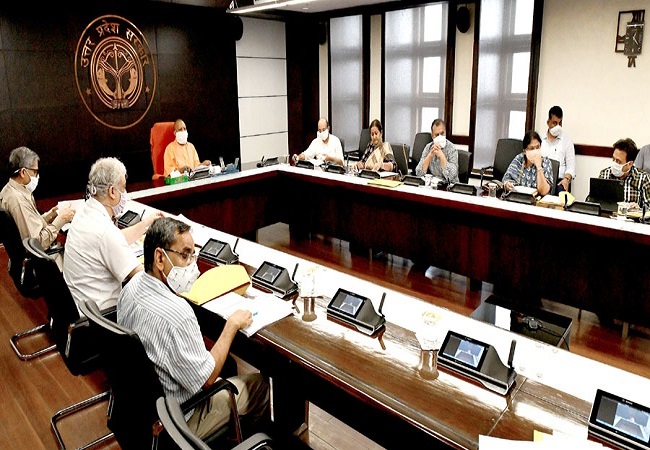 Jail personnel should also be regularly examined
Regarding the team monitoring the situation in Kanpur, the Chief Minister directed that the team reviewing the district of Kanpur go to Prayagraj district on September 06, 2020 to review the situation and remove the deficiencies. He said that all necessary steps should be taken to control the infection of Kovid-19 in prisons. Jail personnel should also be regularly examined. The prisoners should be kept in temporary jail before being sent to jail.
Unnecessary secretariat passes should not be issued
The Chief Minister said that in view of Kovid-19, unnecessary passes should not be issued for entry into the Secretariat. Instructing to make the system of issuing the entry pass of the secretariat strict, he said that it should be ensured that only certified persons enter the secretariat. He directed to ensure strict compliance of the ban on Pan, Gutka in the Secretariat premises. CM Yogi said that tasks should be disposed of by taking quick decisions. It should be ensured that in any case no journal remains pending beyond 07 days.
Traders should be trained to fill GST returns
The head of the state, Yogi Adityanath, said that despite adverse conditions, there has been better revenue collection under GST. While giving instructions to make special efforts to increase GST collection, he said that emphasis should be given on increasing registration in this regard. Merchants should also be trained to fill the GST returns, so that they can pay easily. Instructing to ensure a practical solution to the problems of the weavers, he said that a concrete action plan should be prepared and presented in this regard.

On this occasion, Health Minister Jai Pratap Singh, Chief Secretary RK Tiwari, Agriculture Production Commissioner Alok Sinha, Additional Chief Secretary Finance Sanjeev Mittal, Additional Chief Secretary Home and Information Avnish Kumar Awasthi, Director General of Police Hitesh C. Awasthi, Additional Chief Secretary Revenue Renuka Kumar, Additional Chief Secretary Chief Minister SP Goel, Additional Chief Secretary Health Amit Mohan Prasad, Additional Chief Secretary Medical Education Dr. Rajneesh Dubey, Additional Chief Secretary MSME Navneet Sehgal, Additional Chief Secretary Agriculture Devesh Chaturvedi, Additional Chief Secretary Panchayati Raj and Rural Development Manoj Kumar Singh, Principal Secretary Chief Minister Sanjay Prasad, Principal Secretary Animal Husbandry Bhuvanesh Kumar, Secretary Chief Minister Alok Kumar, Information Director Shishir and other senior officials were present.