new Delhi. The rhetoric about the Sushant Singh Rajput case continues. Actress Kangana Ranaut is very vocal about this matter. In this sequence, the war of words between Kangana and Shiv Sena MP Sanjay Raut has intensified. After the statement about Mumbai Police, Shiv Sena leader Sanjay Raut said that if he is scared in Mumbai then he should not come back. On which now the answer has come from Kangana.
Kangana Ranaut replying to Raut said, 'Shiv Sena leader Sanjay Raut has openly threatened me and asked not to return to Mumbai. At first, the streets of Mumbai raised the slogan of independence and now there is an open threat. Why does Mumbai feel like Pakistan Occupied Kashmir (PoK)? The actress had said that she fears the city police more than the film mafia.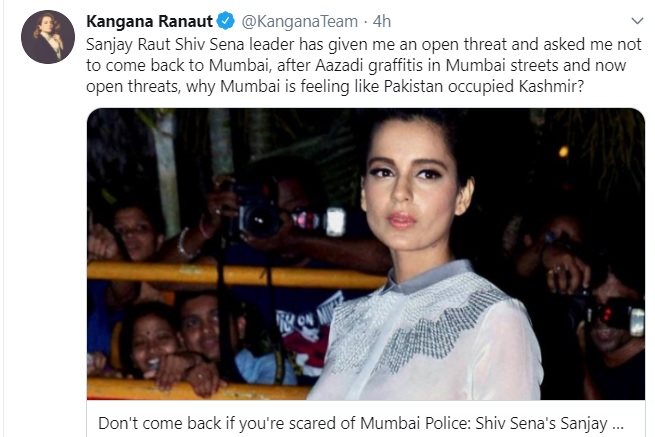 The actress also shared the link to a news report, stating that Raut has asked Kangana to refrain from coming back to Mumbai, as she (Kangana) had given a statement that she should be seen as 'more than a film mafia'. The police force is scared. Kangana recently alleged that the Mumbai Police encouraged crime and hooliganism against her on social media.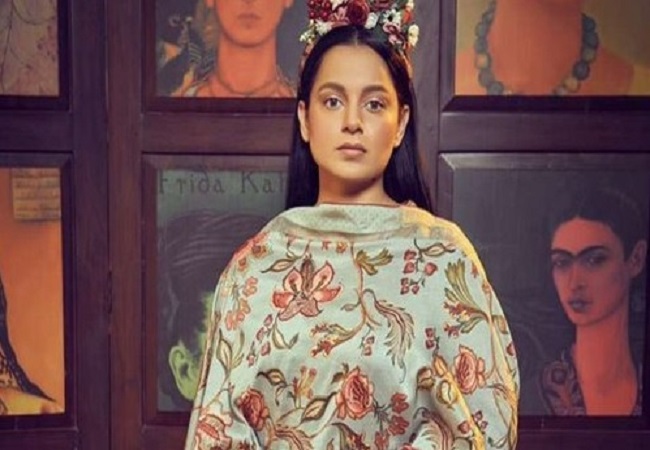 Actually, Kangana Ranaut has said many things about the drugs connection with Bollywood. After which BJP leader Ram Kadam demanded protection for Kangana. To this, the actress said that she did not want the security of the Mumbai Police. He said that the Himachal Pradesh government or the central government can provide security, more than the movie mafia, the Mumbai Police is scared.
After this statement of Kangana, Sanjay Raut said, 'We appeal to him not to come to Mumbai. Your statement has insulted the Mumbai Police. The Ministry of Home Affairs should take action on this.
BJP MLA supports Kangana, opposes Sanjay Raut
Bharatiya Janata Party MLA Ram Kadam has come out in support of the actress, criticizing Shiv Sena MP Sanjay Raut for not telling Kangana Ranaut to return to Mumbai. He tweeted, "The Shiv Sena leader has again given a controversial statement. Maharashtra Vikas Aghadi is pressurizing the Mumbai Police to prevent justice for Sushant Singh Rajput and to save the Bollywood drug mafia and politicians. Kangana Ranaut is the queen of Jhansi and she is not afraid of all these threats. "
On the issue of Kangana Ranaut not coming to Maharashtra and alleged threat of Shiv Sena leader @KanganaTeam #MVA @CMOMaharashtra @OfficeofUT @AnilDeshmukhNCP @CPMumbaiPolice #SushantTruthNow #SushanthSinghRajput #SushantWasMurdered #SushantDeathMystery pic.twitter.com/ImOC6t1Gyo

– Ram Kadam (@ramkadam) September 3, 2020
Kangana appealed to many Bollywood heroes, said give your blood sample for drug test
Recently, Kangana had appealed to Bollywood actors like Ranveer Singh, Ranbir Kapoor, Ayan Mukherjee and Vicky Kaushal to undergo drug tests. Kangana said in her tweet, 'It is rumored that these people take cocaine. I want them to expose these rumors. '
I request Ranveer Singh, Ranbir Kapoor, Ayan Mukerji, Vicky Kaushik to give their blood samples for drug test, there are rumors that they are cocaine addicts, I want them to bust these rumors, these young men can inspire millions if they present clean samples @PMOIndia 🙏 https://t.co/L9A7AeVqFr

– Kangana Ranaut (@KanganaTeam) September 2, 2020