new Delhi. The famous singer Asha Bhosle of India has an Asha Bhosle Birthday on Tuesday. She has turned 87 today. He is popularly known as Asha Tai among the people. Please tell that she is the sister of the voice Nightingale Lata Mangeshkar. Today we will tell you interesting stories about his life.
Birth of Asha Mangeshkar
He was born on September 8, 1933 in Sangli, Maharashtra to the famous theater actor and classical singer Dinanath Mangeshkar. He started singing at just 10 years old.
Father dies at age 9
Asha was 9 when her father died. Later, he started singing along with his elder sister Lata Mangeshkar to help the family. Asha Bhosle has sung more than 12 thousand songs in 20 languages, during which she gave her voice in more than a thousand films. The Government of India honored him with the Dadasaheb Phalke Award in 2000 and the Padma Vibhushan in 2008.
First married 15 years old man
Asha Tai was only 16 when she married her secretary, 31-year-old Ganpatrao Bhosale, against her family members. But this marriage broke up after 11 years. Troubled by the in-laws of the in-laws in 1960, Asha left her husband's house and went to her maternal home with her two children. She was also pregnant at t he time.
Second marriage at the age of 47
After 20 years of being single, in 1980, he got married to famous musician Rahul Dev Burman (Pancham da), six years younger than him. At that time Asha was 47 years old, while Pancham da was 41 years old. This was also Pancham da's second marriage. He was first married to Rita Patel. He passed away after 14 years of marriage and Asha was single again.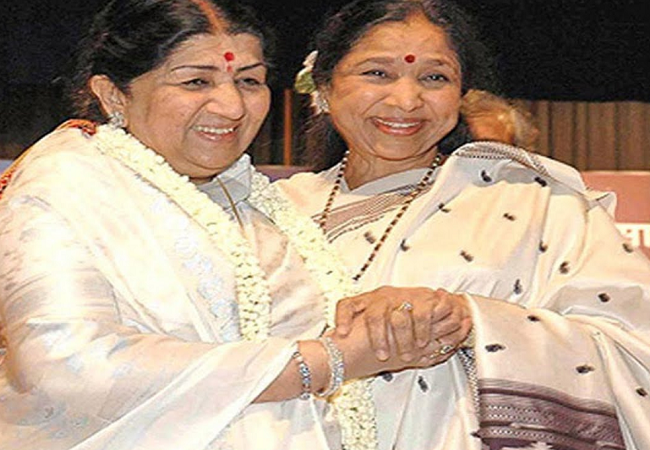 Film on Lata-Asha's story
Lata Mangeshankar was angry with her younger sister for running away and marrying Ganpat Rao. Due to this she was also an opponent of hope. The film 'Saj' was also made about this story of both. In which famous tabla player Zakir Hussain gave music.
Bollywood debut with 'My'
Asha Bhosle made her debut as an actress in the 2013 film 'My'. She also had Padmini Kolhapure in the film, who was in the role of her daughter. Ram Kapoor became Asha's son-in-law in the film. The story of the film was based on Alzheimer's disease.
Daughter succeeds, son dies of cancer
Asha Bhosle had three children from her first marriage. Two sons and a daughter. The eldest son's name was Hemant while the daughter's name was Varsha. Varsha married sports writer Hemant Kenkre, but they divorced in 1998. After this, Varsha started living with her mother in Mumbai. He shot himself in October 2012 at the age of 56. The eldest son Hemant died in 2015 at the age of 66 due to cancer.