new Delhi. On the one hand, there is tension between India and China on the border. Where China is not deterring from executing its evil designs. On the other hand, pictures of the generosity of the Indian Army have been revealed. In fact, on 3 September, 3 Chinese citizens lost their way in the plateau area of ​​North Sikkim at an altitude of 17,500 feet and were in trouble when the temperature was below zero degrees. Realizing their problems, the soldiers immediately reached the Indian Army and provided them the necessary assistance.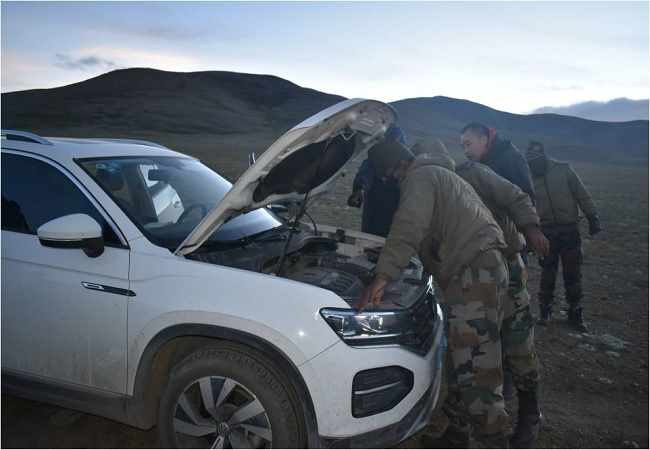 The Indian Army tweeted, "The Indian Army provided help and medical assistance to the trapped Chinese civilians on the Indo-China border of North Sikkim at an altitude of 17,500 feet." Humanity is most important for the Indian Army. '
Humanity paramount#IndianArmy extends help and #Medical assistance to stranded #Chinese citizens at the India – China Border of #NorthSikkim at altitude of 17,500 feet under extreme climatic conditions.

For #IndianArmy #Humanity is foremost#HumanValues#IndianArmy#NationFirst pic.twitter.com/mdW7Tka0wo

– ADG PI – INDIAN ARMY (@adgpi) September 5, 2020
Not only this, Indian soldiers also informed them about the proper way to reach their destination after which they went back. Chinese citizens have thanked India and the Indian Army for their prompt assistance.
Congress MLA claims Chinese soldiers kidnap 5 Indians
Congress MLA from Arunachal Pradesh (Congress MLA) Ninong Ering claimed in a tweet on Saturday that 5 people from Nacho in Upper Subansiri district of Arunachal Pradesh have been allegedly abducted by the People's Liberation Army of China. In his tweet, the Congress MLA has also written that, a few months ago such an incident also happened. He has demanded action by tagging the PMO in his tweet. Ninong Ering said that 5 people were allegedly abducted by Chinese soldiers from Nacho village in Upper Subansiri district of the state. A similar incident also took place 5 months ago.
China's PLA (People's Liberation Army) has abducted 5 boys from Nacho, Upper Subansiri in Arunachal Pradesh. This has happened at a time when Rajanath Singh is meeting defense ministers of Russia & China. PLA's action has sent a very wrong message: Congress MLA Ninong Ering pic.twitter.com/Qr5SupeLDD

– ANI (@ANI) September 5, 2020
He has tagged the PMO saying that the PLA and the Communist Party of China should be given a befitting reply. They were abducted by Chinese soldiers when they went hunting in the jungle. Meanwhile, Defense Minister Rajnath Singh, who arrived in Moscow, had a discussion with the Defense Minister of China for more than two hours. Recently, during another digital strike, India banned many Chinese mobile apps including PUBG. But China is not deterred by its antics.