new Delhi. The conflict between film actress Kangana Ranaut and Shiv Sena leader Sanjay Raut is increasing day by day. A round of rhetoric has started from both sides. Attacking Kangana, Shiv Sena Rajya Sabha MP Sanjay Raut attacked in his own style. On which BJP national spokesperson Sambit Patra stopped speaking with his reply.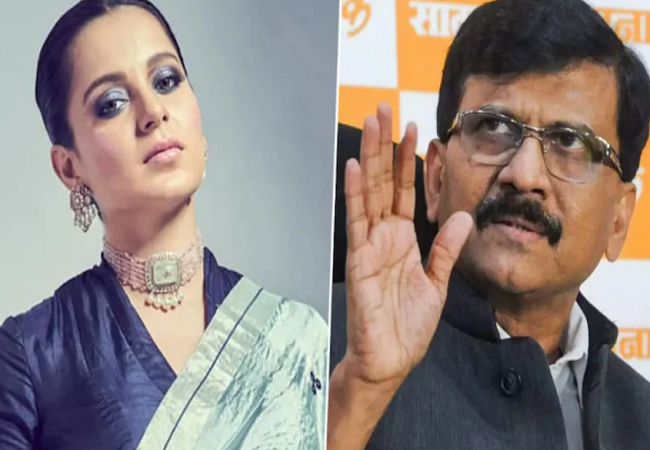 Tell that on Twitter, Shiv Sena MP Sanjay Raut took a hit at Kangana and wrote, "Do not be fooled to test my courage, I have already turned many storms." Sanjay Raut has written Jai Maharashtra in the caption with this poetry.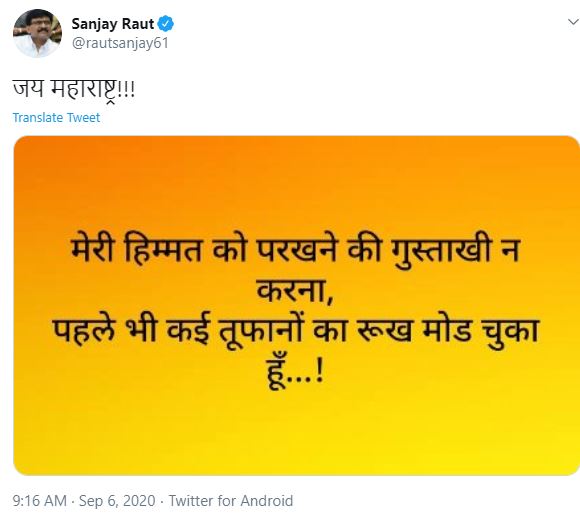 BJP spokesperson Sambit Patra attacked Sanjay Raut on this tweet and surrounded him. He wrote that, "This is what the world is asking… after all, what is it like in" Haveli "that you want to turn the trend of the storm named" Drugs, Death & Dhoka "at any cost …"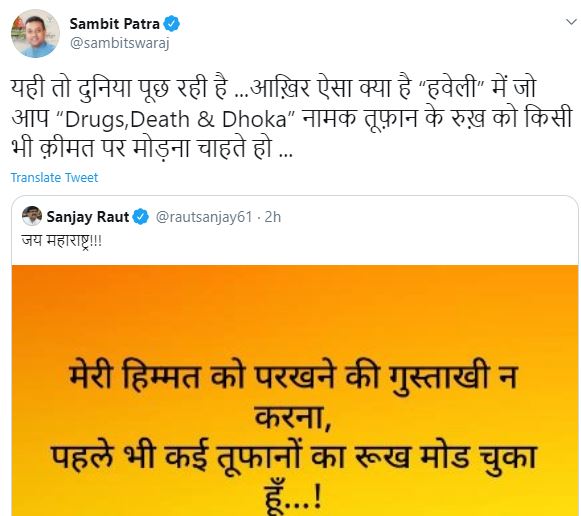 Apart from Sambit Patra, other people also responded to Sanjay Raut. Shikhar Singh wrote that, "The one you are talking about was the dust because, you have not yet been brought up by the storm. Pride was broken even by Ravan, you are still a despised person. Destruction Black Opposite Wisdom "
See how people responded to Sanjay Raut…
Remember Balasaheb Thackeray, never did he add a hand in front of these Congressmen, but you people stood up with folded hands in front of the party which abuses the army and the army for the chair. You will fall down no one can think pic.twitter.com/3gZ3isJ3fv

– INVINOD CHAUDHARY🕉🚩 (@ VINODCH10122497) September 6, 2020
– Pankaj Agrawal (@kpankajagrawal) September 6, 2020
Sanjay Raut Arnab is challenging you openly by staying in Mumbai, he will ask the question whether Sonia Army Government, Mumbai Police Commissioner or Sanjay Raut, who are you, who are dare to stop any Indian from coming to Mumbai, then by stopping Arnab Show me, it is yours to do cheap shayari

– Narendra Modi fan (@ narendramodi177) September 6, 2020
If you believe, then after retweeting 500, give a slap to the mouth of this two-piece poet. pic.twitter.com/EWim5c3N0B

– Falnava Chhauda (@anarchistPandey) September 6, 2020
Puri used to be shaken by the father's roar!
Today the situation is that their chair is shaking with the rebuke of a woman, pic.twitter.com/n8ONf3SyPu

– Neetu – Jai Shri Ram 🙏… .🖋 (@ Nitu643) September 6, 2020
Listen to the cow of the penny, nobody's father belongs to Maharashtra….

Anyway, the haremkhor is from the Chief Minister Shiv Sena… pic.twitter.com/6sN3DPV9Up

– CKMKB (@ Sam4delhi) September 6, 2020
On September 9, Kshatrani lioness Kangana Ranaut will come to Mumbai, Sanjay Rawat, you and your buffoon Bollywood, and your eunuchs should put Maharashtra government on their strength, so stop showing them you will know your real father the same day, your father's What is Mumbai !!#support_kanganaranaut pic.twitter.com/LiNEKTIQCK

– Illiterate Chhora ♕ ℙℕ (@ rkdil4u) September 6, 2020
if # Bala_Saheb Being alive….

So "shoes" @KanganaTeam Not on the photo of # Sanjay_Rout Would have been on the mouth of. pic.twitter.com/BurFEL3Pl5

– SHEKHAR (#JusticeForSSR) (@Shekhar_Hindu_) September 6, 2020
Oh coward, you are spoiling the name of Bala saheb, who is also a proud Shiv Saini, who should end up supporting the Shiv Sena, Raj Thackeray, now it is not the Shiv Sena, it has become the Sonia Army, this Nalla (Uddhav) Thackeray and Baby Penguin (Aditya) spoiling Bala Saheb's name… ???

– Kaushlendra Singh (@GayaKeThakur) September 6, 2020
In fact, Kangana had recently questioned in a tweet, "Why does Mumbai look like Kashmir occupied by Pakistan?" She also tagged a September 1 news report in which Sanjay Raut allegedly said that she should not come back to Mumbai if she is afraid of the city police. " Kangana had said that she needed the security of the Haryana or Himachal Pradesh police to expose the "drug mafia in Bollywood" and she would not accept the security of the Mumbai police. "
On this, Shiv Sena leader Sanjay Raut had allegedly told Kangana that if he is scared of Mumbai Police, then he should not come here.
After this, Kangana had tweeted that she is coming to Mumbai on September 9 and if any father has courage, stop.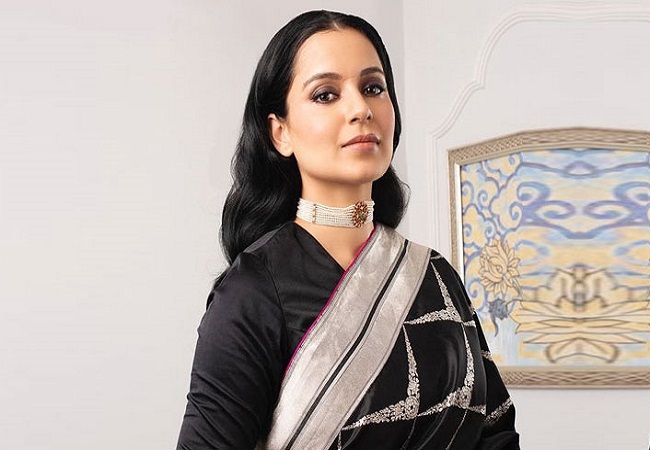 In another tweet, Kangana wrote, "Being a child of a great father cannot be your only achievement, who are you to give me a certificate of Maharashtra love or hate?" How did you determine that you love Maharashtra more than me? And now I have no right to come there? '