Mumbai. Bollywood actress Kangana Ranaut has reached Mumbai (Mumbai) on Wednesday i.e. Wednesday, amid disputes with Maharashtra Government. Actress reached home in Khar amidst Y category security. Meanwhile, Kangana is very active on social media. She is constantly tweeting and sharing photos and videos.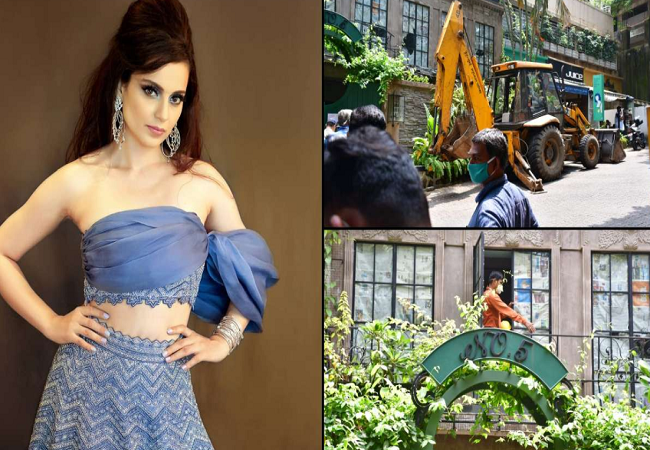 BMC took action at Kangana's Mumbai office. Under which his office was vandalized. Outside his office, a notice of breaking the office was put. After which this controversy has increased. This is how Kangana shared the video of the break-up in the office.
#DeathOfDemocracy pic.twitter.com/Ts5GP9deOh

– Kangana Ranaut (@KanganaTeam) September 9, 2020
This video of Kangana is getting many reactions. People are giving their reactions on this. People are expressing their anger against BMC and Maharashtra government. At the same time, supporting Kangana.
Welcome back kangna

– Mayank (@ Mayank4YoUall) September 9, 2020
Kangana was welcomed by a user in Mumbai.
@KanganaTeam aise 10 office bana sakti hai.
But jis tarah @mybmc ne HC k order k against jaake tod fod ki isse yeh clearly pata chalta hai ki isse 🐧 govt kisko bachaya chah rhi hai. Aur inki asliyat sabke samne aa gayi.Mumbai indeed feels like * MOM * (MAFIA OCCUPIED MAHARASTRA)

– Kaverii (@Kaveri_Das) September 9, 2020
The second user supported Kangana, raising anger at the Mumbai government.
– 🌼🌼 (@its__Lizzy__) September 9, 2020
One user wrote Democracy's death.
A female artist's office was demolished in her absence !!
Vicious silence on this chaos in Mumbai today of activists, award-winning gangs, and placards for finding intolerance and fascism in the country continuously since 2014 is shameful!

– Sav ji Kashi Wale 🚩❤️TPN🚩❤️ (@ijaisdeepak_IND) September 9, 2020
A user wrote that the office of a female artist was demolished in his absence, since 2014 the vicious silence of the chaos that took place in Mumbai today for activists, award-winning gangs, and placards for the country has been finding intolerance and fascism. "